| | |
| --- | --- |
| | AudioNote Kit1 Phono Stage Signature - Homepage |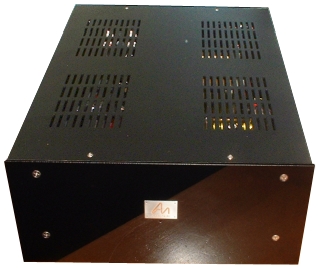 My finished Kit1 Phono Signature
Introduction
This section takes you through the build of a high-end phono pre-amp especially designed for optimum compatability with amplifiers such as my previously built PQ Signature amplifier.
This kit requires some point-to-point wiring using a trackless circuit board which should prove interesting as I have not tried the technique before.
The kit comes with a high end power supply using the AudioNote Trans 0103 Mains transformer/Choke combination and Audio Note's M2 power supply board taken, I believe, directly from one of their production models. The M2 power supply board uses both a 6X5 and ECL82 tube for rectification and current regulation respectively.
The Phono stage uses the M7 phono board from the pre-amp kit that has been modified by Andy Grove to drive the Kit1 directly and to fit the RIAA curve better. There are separate filament heater supplies for the input and output stage on the phono board.
My turntable has not been used since I moved house around 9 years ago so I could be in for a rare treat at the end of the build.
Information Update: Note that since I wrote this article, this kit has been renamed to the 'MM Phono Stage Kit'. It has also been re-housed in a bigger, wider chassis to enable it to accomodate a pair of Audio Note step-up transformers for use with moving coil cartridges.
The arrival / First impressions
As always with kits from this manufacturer, it was immaculately packed. This is essential for such kits as these as they contain such a wide variety of weights and materials from very heavy transformers to delicate glass valves.
Again, all the components are grouped into functional kit bags which contain checklists. It is recommended that you check the contents of these bags against their lists before beginning that part of the project. Not only does it make sure everything is there, but it familiarises you with all the relevant components for that section of the build.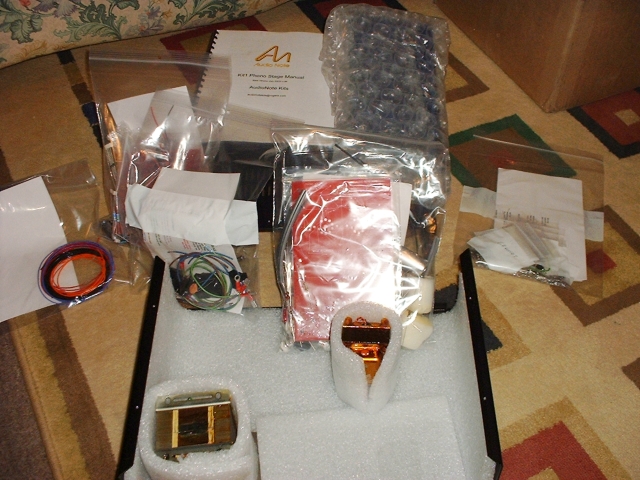 About the Kit1 Phono Stage Range
Although I chose the top-of-the-line phono kit, I was sent the Signature version because there was a problem sourcing some of the necessary parts for the Signature Plus. Currently there are three variations of this kit available (although this may be reduced to just two):
Kit1 Phono Stage Basic - Beyschlag Resistors, 4 black gates for phono stage and 6 AudioNote Aluminum paper in oil film capacitors along with AN-A cable.
Kit1 Phono Stage Signature - Tantulum resistors on phono stage, AN Copper paper in oil caps, AN-V cable.
For more information and pricing, please visit the AudioNoteKits.com website.
---
---